EquBot AI Signals: Global Equities and All Major Asset Classes
Opportunity Score and Price Prediction On Over
50,000 Global Companies and Asset Classes
Each day, signals are processed from millions of regulatory filings, news articles, press releases, social media posts, industry reports and more for each of the 50,000 global companies and asset classes in the global universe.
Opportunity Score and Price Prediction is the aggregate score of these four scores:
1) Financial Health 2) News and Information 3) Management 4) Macro
Investment Process Deep Learning Models
Four Deep Learning Models are trained for each company in the index universe to turn
data into investment insight each day.
50,000 Companies x 4 Models Per Company =
200,000 Company Specific Deep Learning Models Running Continuously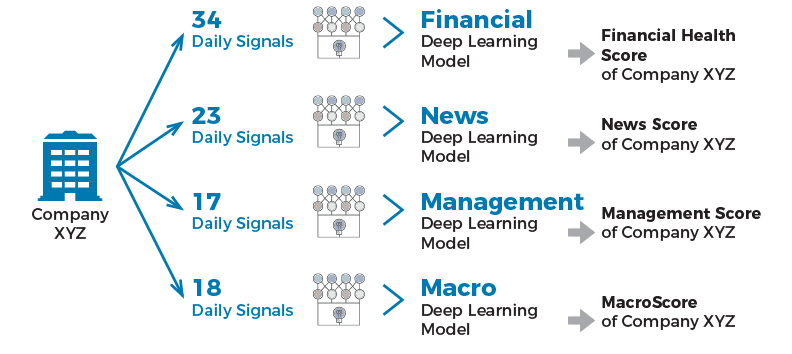 Investment Process Data Sources
Financial Health Score:
Evaluates each company's fundamentals
Sales/Revenue
COGS
R&D Expense
SG&A Expense
Depreciation & Amortization
Interest Expense
Non-Operating Income/Loss
Income Taxes
Minority Interest in Earnings
Other Income (Loss)
Ext. Items & Disc. Ops.
Preferred Dividends
Operating Cash and Market Sec.
Receivables
Inventories
Other Current Assets
PP&E (Net)
Investments
Intangibles
Other Assets
Current Debt
Accounts Payable
Income Taxes Payable
Other Current Liabilities
Long-Term Debt
Other Liabilities
Deferred Taxes
Minority Interest
Preferred Stock
Paid in Common Capital (Net)
Retained Earnings
Common Dividends
EBITDA
EPS
News and Information Score:
Measures each company's market sentiment, economic and geopolitical risks
Analyst Forecast on Earning (EPS)
Analyst Growth forecast
Last Trading Prices
Trading Volume (Adj, Close) )
RSI
52 Week High
52 Week Low
Open Price
News Sentiment
Headline Frequency
Social Med Sentiment
Media Engagement
Legal Involvement
Production loss
Earnings Revision
Crisis Response
Regulatory Changes
Natural Disaster
Customer sentiment
New Products
Strategic Partnership
M&A Detail
Correlated Company Sentiment
Management Score:
Assesses each company's strength and thought leadership
Compensation
Net Sales Growth
Expense Growth
Geo Expansion
Profit Growth
ROA
Credit Rating
Earnings Surprise
ROE
Community Engagement
Product Launch
Headcount Growth
ESG
Innovation spend
Customer Satisfaction
Customer LTV
Leadership Influence
Macro Score:
Gauges a country's economic health
Country Level GDP
Forecasted GDP & GDP Growth
Consumer Price Index
Interest Rates by Country
Retail Sales
Housing Starts
Unemployment
Non-Farm Payrolls
Money Supply
Producer Price Index
Consumer Confidence
Remittance Data
Precious Metal Mining & Production
Agricultural GDP
Gross National Income
Underemployment Index
Central Bank Leadership Sentiment
Central Bank Leadership Influence
Stop missing significant amounts of market data.
Ready to learn more about how our analytics can help you? Simply click below to fill out our 'schedule a consultation' request form.